The Woman with No Name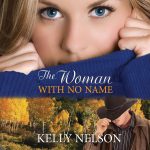 Published by Walnut Springs Press, Salt Lake City, UT (September 2016)
Could losing her memory be the key to finding her happily ever after?
Sworn bachelor Colton Murdock gets more than he bargained for on the elk hunt when he finds an injured woman in Utah's high country. She must have a history, but she wakes up to towering pines and the clap of a thunderstorm with no recollection of her name or how she came to be there. Colt brings her to the safety of his camp, trying to ignore the first stirrings of his heart since the tragic death of his fiancée six years ago.
The young woman can't help falling for her ruggedly handsome rescuer, who calls her Skye for her blue eyes. But her life goes into a tailspin when she is recognized as Lily Vanasche, fiancée of a popular TV news anchorman, and Colt is arrested for a series of crimes including her abduction. After the real kidnapper leaves a death threat in Lily's ransacked house, the clock starts ticking. Can she remember her past before her past catches up with her?
Love's Deception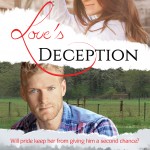 Published by Walnut Springs Press, Salt Lake City, UT (March 2015)
Could Mr. Wrong be the right one after all?
Catherine Lewis lost her husband to a roadside bomb in Baghdad shortly after discovering she was expecting their first child. Seven years later, Cat fears her chance at true happiness has slipped through her fingers.
After growing up the son of a humble Oregon farmer, Ty Bradford is climbing the corporate ladder at an accounting firm in California. But when his father suffers a heart attack, Ty returns home to help with the family farm. Rescuing a beautiful cowgirl stranded on a rural road transforms his previously miserable leave of absence into one of the happiest times of his life.
Ty isn't a member of the LDS Church, and normally Cat, an active Latter-day Saint, wouldn't give him a chance. Against her better judgment she falls for him, believing he is a farmer. Once she realizes he is leading a double life, will she shut the door on the relationship for good? Or could Mr. Wrong possibly be the right one for her after all?
~The Keeper's Saga~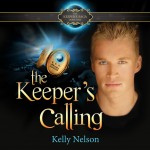 The Keeper's Calling – Book 1
Published by Walnut Springs Press, Salt Lake City, UT (February 2012)
They come from two different worlds. One fateful discovery will bring them together. Neither of their lives will ever be the same.
Hillsboro High School student Chase Harper's to-do list for senior year never included "fall in love" and "fight for your life," but things rarely go as planned. Tarnished gold and resembling a pocket watch, the counter he finds in a cave during the summer of 2011 will forever change the course of his life, leading him to the beautiful Ellie Williams and unlocking a power beyond his wildest imagination.
In 1863, Ellie Williams completes school in Boston and returns to the Utah Territory only to discover that her grandfather and his counter, a treasured family heirloom, are missing. When Ellie is abducted and told she must produce the counter or die, an unexpected rescuer comes to her aid.
I thoroughly enjoyed The Keeper's Calling. The storyline is original and full of surprises, and the characters are likeable and empathetic. All in all, a great story. –Charity Heller, The Mighty Pen Editing.
Time travel, romance, magic, adventure–this book has a little of something for everyone. A captivating story of bravery, love, and discovery. This deeply imaginative tale is a satisfying read for all the young at heart. From cover to final page, The Keeper's Calling will sweep you away on a time-travel adventure you won't soon forget. –Laura Johnston
The Keeper's Calling is a charming story of time travel and young romance, with plenty of plot twists, realistic details, and good pacing. Young and old will like this enjoyable read. –Connie Sokol, Author, Motherhood Matters
Read the first chapter of The Keeper's Calling on the Walnut Springs Press website:
http://www.walnutspringspress.blogspot.com/2012/03/keepers-calling-first-chapter.html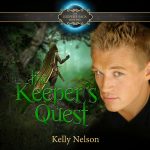 The Keeper's Quest – Book 2
Published by Walnut Springs Press, Salt Lake City, UT (January 2013)
A tragic death
A fatal trap
A daring quest
"I woke to the flash of counter coordinates and a rush of adrenalin. Suddenly, it hit me. I was a pawn in someone's game of chess and I'd just been moved. Master Archidus required my services. I was a Keeper—the Protector, to be specific. I hadn't wanted this, but I wouldn't shun my duties, either. The other Keeper's life wasn't the only one at stake." ~ Chase Harper
After a turbulent start to his senior year, Chase expects his life to return to normal now that Ellie Williams is back. But when a Sniffer's trap leads him on a journey spanning two worlds, he soon realizes things aren't always what they seem. Will his calling as Keeper require a sacrifice he isn't willing to make?
The second book in The Keeper's Saga amps up the action, but it is the developing relationship between Chase and Ellie that steals the show. These are heroes worth cheering for! Nelson has written a sequel worthy of its predecessor.  J. Lloyd Morgan, Author, The Hidden Sun
A five star read! The Keeper's Saga is incredibly imaginative, with characters that almost live and breathe. It's been a long time since a book has kept me up all night, but this one did just that. It caught me so tightly in its grasp I didn't want to sleep. I'd recommend the series to ANY reader!  Karen Hoover, award winning YA fantasy author of The Wolf Child Saga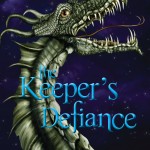 The Keeper's Defiance – Book 3
Published by Walnut Springs Press, Salt Lake City, UT  (December 2013)
A Dreadful Dungeon
An Epic Journey
A Lost Love
"The scream of a dragon woke me. Wide-eyed, I scrambled to my knees, searching for a place to hide. Then it dawned on me—within the clutches of the enemy, I was perfectly safe from the dragons." ~ Chase Harper
When Chase found the gold counter buried in a cave, he set in motion events that would change the course of his life and forever alter the destiny of Algonia. After rescuing his girlfriend, Ellie Williams, they are overtaken during their race for the Algonian border and Chase falls into enemy hands, leaving Ellie to fend for herself. As time passes, Chase is believed dead—forever lost. So when Davy, Perception's Keeper, is charged with seeing to Ellie's safety, will his persuasions be enough to turn her heart?
Kelly Nelson weaves a layered, complex tale that draws the reader in and provides continued intrigue. I picked this book up to read a few pages and found myself engrossed three hours later. A satisfying segment to a creative and original series. – Braden Bell, Author of the Middle School Magic series 
Nelson does it again! The Keepers Defiance is a wonderful addition to a beloved series. Loveable characters, moral dilemmas, adventure and even time travel. Awesome combo for a clean, fun and engaging read! – Steve Westover, Author of A Nothing Named Silas & the Crater Lake series
 The Keepers' Council – Book 4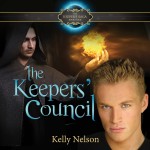 Walnut Springs Press, Salt Lake City, UT (December 2014)
You can thank my mom for Book 4. After she finished reading Book 3 she called me to ask that I write her another chapter for her birthday. She said that was all she wanted–to see Chase and Ellie get married. In other words, she wanted an extended epilogue. I decided if this epilogue was going to be her only birthday present from me, it had better be pretty good. I started daydreaming, then writing, and before I knew it, I had written 38,000 words. That is half the length of a novel. I printed it out for her and sent if off. When I later asked my publisher for permission to release the extended epilogue as a short ebook, they asked me to write some more and make it a Book 4. Nowhere in the extended epilogue had I addressed the issue of Legard. He had gone missing after Book 3. So I brought him back and life got interesting for Chase Harper again. Book 4 will be titled The Keepers' Council and is expected to release the end of 2014. (Here's a glimpse of the back cover:)
A long-anticipated wedding
An untimely disappearance
A hidden truth
"I probably shouldn't have, but I took a chance and extended my hand. Legard wrapped his fingers around my wrist and squeezed. I returned his handshake and his smile, thinking I was either a really good judge of character, or he was an exceptional liar."—Chase Harper
When the Keepers' Council reconvenes, Chase finds himself yanked back to Algonia. But his disappearance from this world couldn't have come at more untimely moment. Garrick, on the other hand, can barely contain his excitement. He hasn't been able to banish a certain auburn haired Algonian maiden from his thoughts and plots a way to see her. But what he finds is not what he expected.
The countries of Algonia and Shuyle have a truce in their long-standing feud, but the heir to the Shuylian throne has gone into hiding. Rumor has it Lord Dolosus now plots rebellion, threatening the fragile peace treaty. So when their nemesis Legard appears in Algonia and tries to broker an alliance, Chase and the rest of the Council doubt his motives. Could Legard have changed his ways, or is his proposition another ploy to steal the counters and aid in the rebellion?