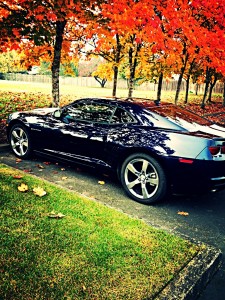 In a recent author interview I was asked the following two questions. As a tribute to my dad whose birthday is in October, I decided to share my answers.
"Who is your "hero" and why?"
My dad. He always worked hard to take care of us. I know he loved me unconditionally. I could talk to him about anything. He was completely honest and well liked by everyone. If there was a project or job to do, he was there. He has always been my favorite person to work with. When he got a brain tumor he made a comment to the family that if someone had to get it, he was glad it was he—he wouldn't want any of us to have to go through that. I knew at that moment that given the choice, he would have taken the burden willingly to spare the rest of us. He has always been my inspiration and the wind beneath my wings.
"Can you tell us the story about why you got the Camaro?"
My Dad got a new metallic blue Camaro in 1968. He had the car until he passed away in 2005. That was the car I learned to drive on when I was 16. In The Keeper's Quest I patterned parts of Garrick's life after my Dad so I gave him a blue 1968 Camaro as well. When I got to the end of Book 3, I wanted something really good to happen to Chase after he had suffered so much at the hands of Lord Arbon and Legard. Thinking of what every teenage boy would dream of, I gave Chase a brand-spanking-new sports car for graduation. What would be more appropriate than a Camaro since Chase had driven Garrick's in 1968? I wrote the car into the book and then got to thinking. Other than a glimpse of Bumble Bee in Transformers a year or so earlier, I didn't really even know what those cars look like.
So the next time I was down at CARR Chevrolet getting my oil changed, I decided to have a look. As I was wandering the Camaro section a salesman came over and persuaded me to take a test drive. I assured him I wasn't buying a car, but he insisted we could still take a test drive. So we took an Imperial blue V8 automatic for a test drive. It was nice. Of course when we got back to the dealership they wanted to 'talk' about the vehicle. I again told them I wasn't going to buy a car and that if I did, I would be buying a stick shift anyways. So Nick the salesman ripped up the paper he was writing on and said, "Now that's another experience all together. Have you driven a manual yet?"
"Not yet," I said.
He jumped up. "Then come on." He grabbed the keys to a white Camaro with orange rally stripes and off we went. He drove me to Aloha High School parking lot and then turned the vehicle over to me. I killed it once on that 10-mile test drive, but the driving experience was awesome.
After that I couldn't get the car out of my head. I researched the cost and features online. A couple of months later Greg and I were talking about a budgeting class we were preparing to teach for the youth and I said, "I know I shouldn't, but I really want to say 'YES' to the car."
Greg thought about it and he wanted to do something nice for me, so he decided he'd buy me the car. I ordered the exact car I wanted and wrote the check for it on October 8—my dad's birthday. He had had a stick shift Porsche when I was 17 and I think I acquired my taste for sports cars from him. I know if he were alive he would have bought a Camaro too.
Before he died I was really distraught. He told me that after he was gone I needed to keep living. He didn't want us to languish in despair and flounder. So sometimes when I drive my Camaro I'll think of my dad. I'll smile as the accelerator approaches the floor and my head presses against the seat back and I know I'm living.