My LDS contemporary romance novel Love's Deception will release early this summer.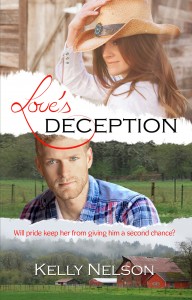 Catherine Lewis lost her husband to a roadside bomb in Baghdad shortly after discovering she was expecting their first child. Now seven years later she fears her chance at true happiness has slipped through her fingers.
After growing up the son of a humble Oregon farmer, Kip is driven to climb the corporate ladder of an accounting firm in California. But when his father suffers a heart attack he returns home to help with the family farm. Rescuing the beautiful cowgirl stranded on the rural road transforms his previously miserable leave of absence into one of the happiest times of his life.
Unlike Cat Kip isn't a member of the LDS church and normally she wouldn't give him a chance. But against her better judgment, Cat falls for him under the pretense he is a farmer. But once she realizes Kip is leading a double life, will she shut the door on that relationship for good? Or could Mr. Wrong possibly be the right one for Cat after all?
Romantic, humorous, and bittersweet—Love's Deception is a heartwarming story of love, family, and forgiveness.