Nothing can turn an ordinary day into a great one faster than a fan email. I simply LOVE getting them. I am so curious what other people think when they read my book, or in other words take a glimpse at my daydream. Because that's really all it is—an elaborate daydream that I set to paper. I did have to sprinkle in a few character flaws and season it with a couple of plot twists, but nothing helps one pass the time quicker than an intriguing daydream. Don't you think?
Here is a sampling of readers' comments:
This post would be too long if I included everything. And unless I asked for permission, I have only included first names to keep it anonymous. Thank you to everyone who took the time to share their thoughts with me!
Ashley Clark went above and beyond the duty of an ordinary fan she put pencil to sketch pad and created these beautiful depictions of the main characters.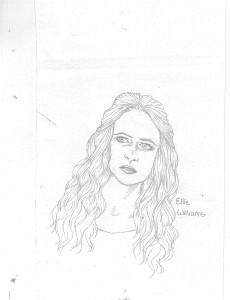 Ashley's father said, "I'm a huge fan and loved your first book. I remember an old TV series called "Voyagers" I liked when I was a kid.  Your book has some similarities to it, but is much, much better with an engaging story and great characters.  I can't wait to read the next book. My daughter is almost done with book two, and my wife is done with book one and is waiting to start book two.  We love all the Portland references. Actually, my daughter reads a lot of books and when she really likes characters in a book (like in the Hunger Games, etc.) she draws pictures of the characters in her sketchbook.  I found these 3 sketches she had done of Chase, Ellie, and Jessica (See attached).  After some coaxing, she agreed to let me send them to you."
Darien said, "I just finished reading Keeper's Quest. It took me a little under two weeks to read both books, and when I found out there was going to be a third book I got really excited."
Chelsea said, "I just finished the second book. I loved it just as much as the first. I can hardly wait for your third! I'm so impatient! I've started recommending your books to everyone I know! I hope it helps!"
Vince said, "My wife met you in a Costco (she was displaying humus for Garden Fresh) and bought your first two books for my daughter Sara.  Sara and I both read the Keeper's Calling and just started the Quest.  You are a very talented writer and I'm confident you have a brilliant writing career in front of you.  The challenge you face is getting the word out, as I know your work will propel you once it starts to spread.  I would love to see this saga turned into a movie.  Word of mouth is powerful advertising and we'll be spreading it in our geography here in Georgia.  Good luck and PLEASE let me know when your next book is released, as I'll be anxiously waiting."
Sandra said, "It was nice seeing you again at the signing! I just finished reading The Keeper's Quest, after just picking it up two days ago. I was on the edge of my seat while reading. I had a hard time putting it down once I started. I'm really looking forward to the next book in the saga! Can't wait to see what adventures Chase has ahead of him! Such talent!  I'd love to see these turned into a movie!"
Chelsea said, "I decided last night that I would pick up your book. About 3 pages into it, I was like "This is an early teen book. No way I'm going to get into this." But I did Kelly, I read your entire book in one night, I passed out for about 3 hours, woke back up and read again until I absolutely could no longer keep my eyes open and had finished the book. I just wanted to let you know with your little "Hope you enjoy" message, that I did enjoy and that at some point I will be buying your others. Smiles."
"My name is Blake. My grandma went into Costco about 2 weeks ago & bought your book "The Keeper's Calling" & got it signed saying, "Blake, I hope you enjoy" How could I not enjoy it? It was seriously the best book I've ever read! I love everything about it. The charterers, everything that happens, & the love story part. I cannot wait to get "The Keeper's Quest" I haven't read what happens in that book but I am 100% sure it will be great just like this one!"
"My name is Sage and I live in Portland, Oregon. I am 12 years old. My parents went shopping at Costco and found your book. I just finished it today and it was the best book I have ever read. I'm not a very big reader but I read for six hours in one day. I usually read about one hour tops. We are going to get the sequel today, and I am looking forward to reading it for hours at a time! Thank you for making such an amazingly written book!"
Amy said, "I just wanted to send you a quick note to tell you how much I LOVED reading The Keepers Calling!  I can't believe what a creative, well written story it was!  I loved the characters! You are amazing, and I can't wait until your next book comes out!"
Brenda said, "I just wanted you to know that I thoroughly enjoyed your book. I can't wait to read of their next escapades and I really appreciate your insight as to why having our futures revealed to us spoils the present. To be fully present in each and every moment in our glory and our vulnerabilities is truly the gift."
Aravind said, "Although I finished your book a few months ago, the story is still vivid in my mind and I would like to commend you on how well it is written. I can gladly say that your book was a much-needed relaxer from the world of over hyped, mass produced James Patterson novels and made me believe in delving into the world of new authors again. Once again I would like to congratulate you on writing such a wonderful book that I had the utmost pleasure in reading. I am extremely excited for your next book and look forward to reading it."
Antanina said, "My father and I ran into you at the Tigard Costco not log ago.  After glancing at your book and speaking with you we decided to pick up a copy of your book.  It isn't the kind of book I would normally be drawn too, but I found the concept very interesting.  I sat down and began my journey with your characters.  Needless to say I finished to book in one sitting. It is an easy read with very likable characters; please continue the amazing work and I hope to see many more works from you in the future."
Thanks again for reading my book. I've loved having you join me in The Keeper's Saga!