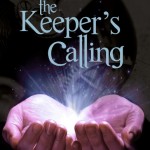 Welcome! Thank you for visiting my website. I'm pleased to announce the upcoming release of my debut novel, The Keeper's Calling, to be published by Walnut Springs Press. The Keeper's Calling is scheduled to be released in March of 2012.
If you'd like to receive an update when The Keeper's Calling is available, please join my mailing list. Click the Questions or Inquires box in the upper right hand corner and leave your name and email address.
To post a comment, click comment below and scroll down to the bottom of the page. I look forward to hearing from you.